Thermal systems
Façade systems
These systems are used to implement glazed façades in buildings like banks, hotels, public offices, office buildings, car showrooms, sport halls etc. They are also used for many spatial structures and roof glazing intended to provide additional lighting to the inside of the building and create suitable atmosphere and user comfort. They are a perfect tool for shaping modern architecture and implementing bold visions for the designers. The most popular in this group are the column and transom system, with the PONZIO façade range also including an entire product range in different designs and appearances, as well as a series of custom solutions.
Among the column and transom façades, the most technologically advanced design is the PONZIO PF152HI PASSIVE system. It implements a completely new approach to the design of profiles and accessories responsible for the sealing and thermal insulation as well as the façade installation technology. We thus offer a product characterised by some of the highest technical parameters among the aluminium façade systems on the market, perfectly suitable for the purposes of energy saving and passive construction industry.
The highlights of the PONZIO façade systems range are:
PONZIO PE78NHI WINDOW FAÇADE SYSTEM, with an advanced three-chamber profile design system with very good insulation properties and high-profile strength, which enable large size structures.
PF152ESG STRUCTURAL FAÇADE SYSTEM, designed to build light-weight curtain walls and other spatial structures. From the outside it forms a uniform smooth glass wall, divided by vertical and horizontal lines.
PONZIO PF152IW FAÇADE SYSTEM WITH INTEGRATED WINDOW, designed to create column and transom walls or curtain walls with structural glazing, with optional inswing windows.
PONZIO PF173 SEGMENT FAÇADE SYSTEM, designed for building curtain walls of pre-fabricated segments attached to the support structure of the building, enabling the fitting of ready segments to the façade.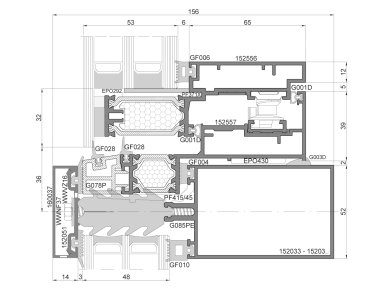 Jesteśmy na rynku od 1997 roku
Zaufaj naszemu doświadczeniu