Fire protection joinery
Façade walls
The MB-SR50N EI column and transom wall system is designed for light-weight fire protection curtain and infill walls in the fire resistance classes EI15, EI30, EI45, EI60 as per PN-EN 1364-3 and PN-EN 1364-1, and glazed roof coverings in the fire resistance classes REI20 / RE30 as per PN-EN 1365-2. The system is classified as fire-retardant (NRO).
In the MB-SR50N EI design, profiles are used of the MB-SR50N basic façade system: columns with a depth of 85-225 mm and transoms with a depth of 69.5–189.5 mm. The view of the level of fire protection the façade does not deviate from the base system.
To achieve the level of fire protection, the columns and transoms are equipped with special fire protection inserts. This insert consists of an aluminium shape used as reinforcement, covered with fire protection panels. Fire protection glass or other infill are seated in notches formed of column and transom profiles and pressure strips.
To achieve the optimum thermal and acoustic insulation in the structure, a continuous distance piece, made of HPVC, and profiled glass gaskets made of EPDM. In addition, on the side surfaces of the insulator fire protection tape is used, which expands at a high temperature and fills the space between façade infill pieces. The pressure strips are attached to load-bearing shapes using a stainless steel screw and washer. This glazing system ensures proper technical parameters of the façade and protects the glass or other infill from falling from the frame during the fire.
The fire protection column and transom system design enables using angle connections up to ±7.5° per side and construction of façades inclined from the vertical plane by the angle of ±15°, while the supported glazing can be inclined by 0 to 80°. The MB-78EI system doors can be installed in column and transom façades, while maintaining the fire resistance of the entire structure in class EI30 or EI60.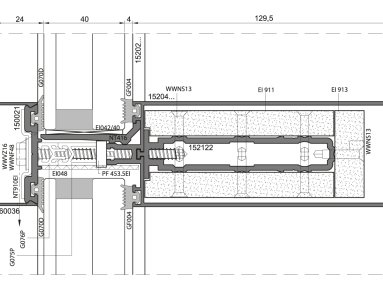 Jesteśmy na rynku od 1997 roku
Zaufaj naszemu doświadczeniu