Aluminium – warm window systems
The three-chamber profile design system with fitting groove in the Euro standard and the fitting groove used in balcony windows and doors made of PVC or wooden profiles. It is designed for windows meeting very high thermal insulation requirements.
high thermal insulation – with 42 mm multi-chamber thermal insulation and a two-component central gasket
for large size structures
high freedom in selecting different fitting types
window leaves can be flush with the frame (single plane on the outside)
enables profile bending
many corner connection methods
different thermal insulation variants, depending on the insulation inserts in use: PE78N+, PE78NHI, PE78NHI+
in the warmest PE78NHI+ version, cavity closure and aero-gel insulation insert, heat transfer coefficient, Uf, from 0.7 W/m2K
suitable for many window variants, for example tilt and turn, outswing, concealed leaf etc.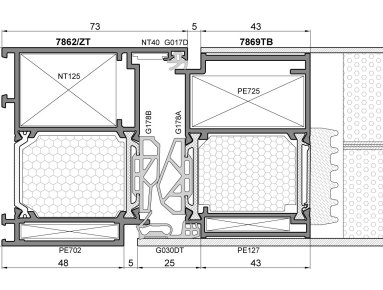 TECHNICAL PARAMETERS
Jesteśmy na rynku od 1997 roku
Zaufaj naszemu doświadczeniu