Manufacturer of unique wood and PVC windows and doors and aluminium joinery.
OKNOSTYL Door and Window Systems
Lift and slide windows – HS style
The latest trends in design and architecture are compelling window manufacturers to produce increasingly large products for multiple and single family building projects. The HS lift and slide system is the most advanced technological solution on the market, ensuring smooth and silent operation of large terrace glazing units.
This is a very practical interface between the internal and external space in your house or flat. These windows are most often found in living rooms having terrace and garden doors.
Advantages: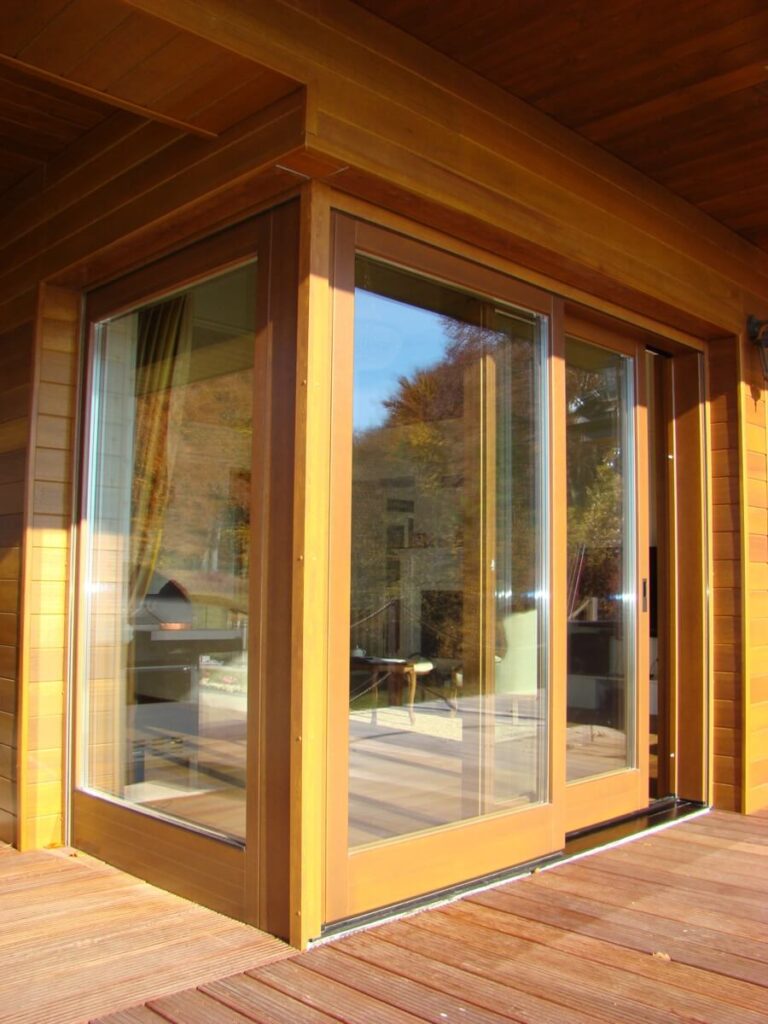 OKNOSTYL Door and Window Systems
Our export product: English style doors
External English doors are characterised by classic and elegant forms. They may be solid, with minor glazing, or fully glazed, finished with classic wooden muntins, either single or double leaf.

The characteristic feature of English doors are the bold colours, such red, yellow, different shades of blue or even pink.

English-style doors often feature side screens. The side screens and even upper screens are characterised by perfect symmetry, helping to make the rooms bright, cosy and warm. Door and screen colours are often juxtaposed, such as a red door with black screens, or a navy door with white screens.
The beautiful and majestic leaves look phenomenal against the background of the house, while optically enlarging the space.

English front doors are characterised by unique resistance to everyday use and changing weather conditions. In short, they are elegant, warm, safe and exceptionally durable.
English style internal doors are fairly decorative, so they only need moderate additions and are usually white. It is worth noting that fixed components, installed on the doors as atmospheric finishes, are also very typical of the English style. They include decorative frames, adjusted to the baseboards, and the entirety is complemented by a custom handle.
We produce custom, highly refined and original door designs, in line with your taste.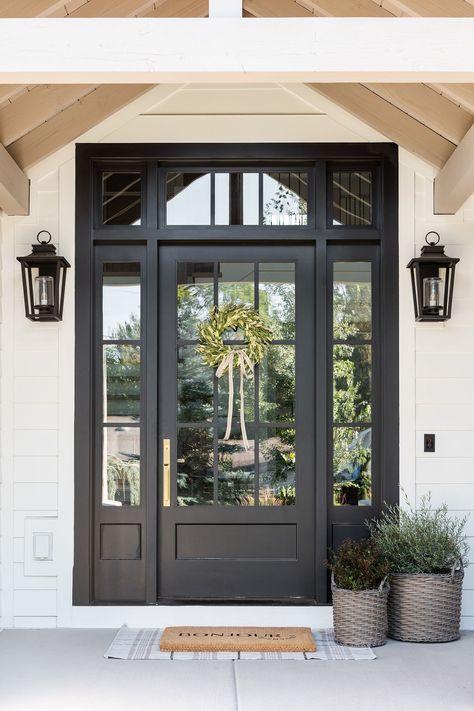 We produce custom, highly refined and original door designs, in line with your taste.
Can windows be too tight?
It should be emphasised that while the accumulation and condensation of water vapour relates to the window glass inside the building, and does not result from a product defect. There are also ways to deal with this phenomenon. Another problem is the accumulation of water vapour between the window glass – this does result from a manufacturing defect, and the only solution is the replacement of the glass.
Steam accumulation on a window glass results from excessive air humidity in the building. This phenomenon occurs when the relative humidity in the room is greater than 60%, while the difference between the indoor and outdoor temperatures is at least 20°C. When the air humidity is high, the ventilation does not work as well, meaning that excess water vapour settles on the coldest surfaces, which is usually the window glass. Most houses in Poland have natural (gravity) ventilation ducts designed to ensure adequate ventilation. It operates based on the assumption that the windows or walls have minute gaps that enable air flow. The technology needs to be developed. Windows with very high insulating properties are manufactured nowadays while the walls prevent air penetration. It would seem seems that houses today are really well sealed, which has an adverse impact on room ventilation, an essential quality of life.
Can something be done about this?
Water vapour accumulation on the inside of window glass can be prevented. This is achieved through systematic room ventilation. The problem of water vapour accumulation is primarily related to the autumn and winter period, when it is much colder outside. Such weather may not encourage windows to be opened, but it is necessary to maintain the proper humidity levels in our rooms. This is just a casual solution, as it would be better to find a permanent way to maintain the proper humidity levels in our rooms. To that end, air vents can be helpful. These are designed to provide proper room ventilation without heat losses. They are usually installed in the upper part of the window. Even if a window is closed fully, the air vents supply fresh air to the building to improve the ventilation. In this way they prevent the accumulation of water vapour on the window glass. There are three types of window air vents available. The first type involves manually controlled air vents, which provide you with complete control over the opening degree and the air intake volume. Another type involves pressure air vents, controlled automatically based on the difference between the indoor and outdoor air pressures, although they still offer the option to minimise the air flow manually. The final type involves humidity sensor air vents, where the opening degree is controlled automatically, based on the humidity level in the room. Importantly, air vents can be fitted in all types of windows: PVC, aluminium, wooden and wood-aluminium.